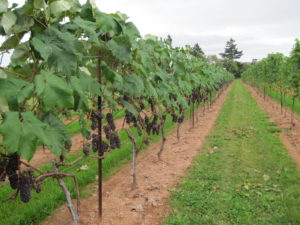 The Matos family culture is built on the time-honoured principles of hard work, integrity, uncompromising desire for quality and long-term stewardship of the land. Their desire is to create an extraordinary wine which will truly reflect the potential for wine production in PEI.
In the summer of 2007, 16,000 Gamay Noir and Chardonnay grapevines were imported from France and planted on 10 hillside acres. In the spring of 2008, the Matos family sold their wine business in Ontario and moved to PEI. Most of 2008 was spent on tending the young vines – the size and shape of the vine is the result of the grape variety and the climate, but the way vines are pruned, trellised and spaced is also critical. The vines are pruned based on trellising and are trained on fruit and catch wires. The summer months were spent installing the thousands feet of wire necessary to properly train the vines.
A solar-powered weather station was also installed with wireless telemetry to relay data – benefiting water consumption and irrigation needs.
Construction of the winery began in the spring of 2010. The first harvest occured at the end of October and parts of the building had been completed in preperation for that harvest. This would house the destemming equipment, membrane press, peristaltic pump and fermentaion tanks. Construction in the winery was completed in early 2011 for our grand opening. We offer a showroom, tasting bar, display shelving, public washrooms and tours to the public.