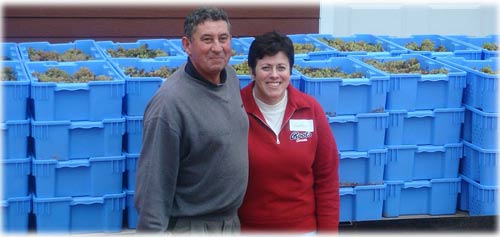 Jaime and Heather Matos were both born on the island of Pico in the Acores, just off of Portugal. Heather came to Ontario when she was 5 and Jaime when he was 18. While in the Acores Jaime helped his father tend to his vineyards there and make wine.
Jaime ran a very successful U-Brew business in Ontario for over 20 years. This involved making wine from pure juices from California, Greece, Italy and Chile and in the fall season had grapes imported from California for the wine maker who still preferred the old fashion way of making wine. Jaime would also buy grapes from the local Niagara farmers to blend with the California grapes. He had all the equipment for destemming and crushing the grapes for all levels of wine makers. He would also consult with clients as to the best way to end up with a superior wine.
It had always been a dream and passion for Jaime to have his own vineyard and winery one day. Many travels around the world scouting for the perfect location and a place that he could enjoy and call home. This ended up being Prince Edward Island, a place of great beauty, friendly people and a quieter way of life. It also helped that it reminded him of his own little island back in the Acores.
Heather always worked outside of the home but never forgetting that her greatest love was her family. Having lost her mother at a very early age Heather learned to take on challenges at an early age. She loves to sew, garden, read, cook and enjoys many crafts. This by far is her biggest challenge and she is looking forward to supporting her husband, meeting new people and making this a new adventure.
Both Jaime and Heather welcome everyone to their winery and hope that they to will enjoy the adventure along with them.